Third Ward NeighborhoodFEST®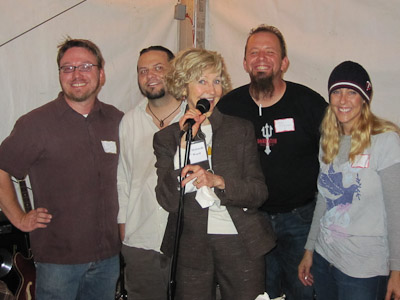 The Third Ward NeighborhoodFEST® is a celebration of the neighborhood organizations, our successful businesses and nonprofit organizations, of exciting Ward projects and accomplishments. With thousands of residents and business owners in attendance, it's an extravaganza of food, music and networking. It's also an opportunity to hear from distinguished speakers on topics of interest to our community.
I'm proud to have been the creator of the Third Ward NeighborhoodFEST. The excitement and energy it creates has helped to cement a stronger Third Ward where people learn, live and work together to build a better community. See this video about NeighborhoodFEST® on MTN-TV.
NeighborhoodFEST® Through The Years
2012: "Our Riverfront, Our Future, Bridging Communities"
This was an explosive celebration of the success in our community. We welcomed the Minnesota Vikings and our many new businesses into the neighborhoods.
2011: "Our Riverfront: Festival of Neighborhoods"
The University of Minnesota's Metropolitan Design Center and world famous experts on sustainable development from Stockholm, Sweden, who developed the Hammarby Sjöstad Sustainable City Development, joined us at NeighborhoodFEST to answer questions and discuss their experience.
On November 5, we offered a free Sustainable Neighborhood Design Conference & Symposium at the University of Minnesota. Sponsored by the Center for Sustainable Building Research and the Metropolitan Design Center, participants included an international group from the Hammarby Sjöstad Project in Stockholm. Other featured developments included UMORE Park in Rosemount, the University District Alliance, The Ford Plant Site in St. Paul, and Eco-Village in North Minneapolis.
2010: "Making Connections!"
We celebrated our partnerships with the City and the Park Board. We presented information about the RiverFIRST project and riverfront design competition and spotlighted the Hawthorne EcoVillage and our participation in World Habitat Day and the visit of former president Jimmy Carter.
2009: "The Mississippi Riverfront and Economic Development"
At this event, we recognized not only the historic but also the spiritual significance of the Mississippi River and the Dakota people who were the original settlers along the Mississippi riverfront. Dakota women performed a water ceremony, an Indian drum circle performed and Clyde Bellecourt give the opening remarks.
2008: "Transportation and Economic Development"
This year we facilitated a panel discussion and invited questions from residents about the impact of transportation on our community and the environment transportation options create. We presented the "complete streets" model – a pedestrian-focused model of transportation that encourages a healthier, more walkable and bikeable community.
2007: "Public Safety and Regulatory Services"
We continued our focus on the top priorities of our community – public safety and livability in Third Ward communities – with the intent of reducing the impact of problem properties and increasing public safety.
2006: "Neighborhood Game Plan"
At our 1st Neighborhood Summit each neighborhood presented their list of priorities. I facilitated a follow-up session in May to evaluate those priorities and in June we focused in on the top two priorities: public safety and housing. In October, I facilitated a Summit on Public Safety and Regulatory Services. The purpose was to improve public safety and reduce problem properties.