Safe Neighborhoods Make a Livable City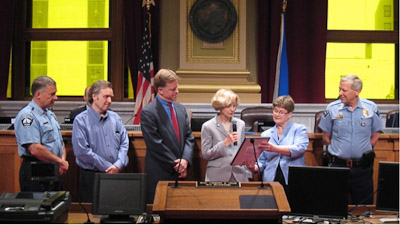 Public safety is my top priority. When people feel their community is safe, they put down roots and create vigorous, vital communities. When a community is thought to be unsafe, it hurts the people who live there and makes it an undesirable place to start or keep a business.
On my watch, creative new approaches have been developed involving the Police Department, Regulatory Services, the Hennepin County Attorney's Office, and the Problem Property Unit. The City has used its ordinances, code enforcement responsibilities and its power of inspections to go after crime in a coordinated effort. We have developed and passed more aggressive regulatory policies and engaged every possible partner within the community to identify and implement solutions.
I'm proud to say that, as a result of our work, we've seen double-digit crime reduction in the Third Ward and the City and we've had a significant impact on problem housing. These are a few of the success stories we've had in my term in office:
I authored a new gas shut-off ordinance, which has become a national model to prevent vacant-house explosions.
As a City, we passed stronger rental property licensing and noise ordinances.
Enforcement of those ordinances resulted in a 51% reduction in noisy/unruly assemblies in the Marcy-Holmes neighborhood alone in 2011.

More than 800 problem properties in the Third Ward were registered and inspected.
More than 300 property violations were resolved in 83 buildings.

A multi-unit apartment with drug activity and crime problems was closed, rehabbed and turned into affordable rental housing.
I collaborated with City departments and neighborhoods to shut down long-term problem businesses that had been havens for illegal activity, including a convenience store that had consumed $500,000 in police resources with over 900 police calls in one year.

Foot patrols were instituted in gun violence hot spots to increase police visibility and develop relationships with residents and property owners.
Coordinated Response & Regulatory Action
Monthly CARE Meetings: I initiated and I facilitate monthly CARE Meetings with Minneapolis 2nd and 4th Precinct police, U of M police, crime prevention specialists, the fire marshal, Minneapolis Regulatory Services staff and inspectors, Minneapolis Public Housing staff, the City Attorney, Hennepin County probation office, Hennepin County Taxpayer Services staff, and others to discuss, report on and resolve critical public safety matters, economic developments and other issues of importance to our Ward and City. We have enjoyed eight straight years of crime reduction in the Third Ward.
Helping Businesses Address Problems: I facilitate the Riverfront Entertainment District (RED) Partnership. This initiative was developed to increase public safety and police patrols in the area with the collaboration of the 2nd Police Precinct, Northeast businesses and the Northeast Chamber of Commerce. Last year, local businesses and neighborhoods contributed money for additional police patrols on Friday and Saturday nights in the summer.
I initiated LINC (Liquor Industry 'N the City) a monthly forum of City staff and businesses that own or manage liquor establishments. The forum provides an opportunity for open dialogue on topics related to the successful operation of businesses that deal with liquor. It includes Bar Watch, a partnership between the police and downtown bar owners, which educates bar owners, managers and staff on ways to keep bar patrons safe.
The Southeast Strategic Compliance Team is a partnership of the Third Ward office, the 2nd Police Precinct, The University of Minnesota, City Regulatory Services and the SE neighborhoods working to improve neighborhood livability by engaging property owners and residents in solutions to reduce conflict.
These are just some of the ways that I, my office, and the City Council have worked together to improve the safety of City residents and businesses. With your support, I look forward to continuing this important work.