Working for a Better Mill City District
Safety • Transit • Business Development • The Mississippi Riverfront • The Stadium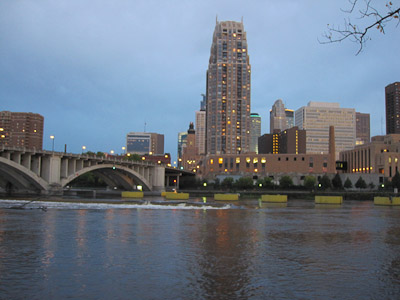 The Mill District neighborhood joins the Third Ward as a result of redistricting. Many of the issues that concern me are also of great concern to you, such as:
What Makes a Livable Neighborhood?
The Mill District has seen remarkable change in the last decade. With 15 highly desirable loft and condo buildings and thousands of residents, the Mill District has tremendous assets that appeal to both residents and businesses.
Safety: Public safety is the number one priority for me and for my constituents. I serve on the City's Public Safety, Civil Right & Health committee. I initiated and I facilitate monthly CARE Meetings with Minneapolis 2nd and 4th Precinct, U of M police, crime prevention specialists, the fire marshal, Minneapolis Regulatory Services staff and inspectors, Minneapolis Public Housing staff, the City Attorney, Hennepin County probation office, Hennepin County Taxpayer Services staff, and others to discuss, report on and resolve critical public safety matters, economic developments and other issues of importance to our Ward and City. We have enjoyed eight straight years of crime reduction in the Third Ward.
Schools: I have asked the Minneapolis School Board and the School Superintendent to support expansion of schools into the downtown neighborhoods. It is much needed in our downtown core as new families and children continue to move into the area.
Transit: Transit will continue to be a significant focus for me and for all the Third Ward neighborhoods, many of which have experienced significant changes with the introduction of light rail and commuter rail and increased multi-modal transit options. I will continue to advocate for complete streets that ease congestion and improve bikeability and walkability while strengthening the community.
Business Development: Building an active street life means attracting more of the right kinds of businesses to the community, and ensuring the regulations don't interfere with, but rather promote, positive development. In the Mill District area, it's important to find the right diversity of businesses.
I am directly involved with decision making on two of the biggest development projects affecting the downtown area: Mississippi Riverfront development and the Vikings Stadium. I also serve on the Vikings Stadium Implementation committee of the Minneapolis City Council.
Green Spaces: Residents in the Mill City area are concerned about the addition of green space as a quality of life issue. Planning along the Mississippi riverfront has been underway for years, beginning in earnest in the Mill District with the Minneapolis Riverfront Design Competition when designers from across the globe competed to design 220 acres of parkland, business districts and community space from the Stone Arch Bridge to the City's northern limits.
I serve on the steering committee for the nonprofit partnership RiverFIRST, which is working to both develop and preserve this ecologically and economically valuable area of our City. I am also actively involved in the Minneapolis Riverfront Partnership, serving on the Executive Committee.
Communities can resolve problems and create opportunities when diverse groups of people come together to talk. That's why I sponsor the yearly NeighborhoodFEST to give those who live and work in the Third Ward an opportunity to build connections and learn from one another.
Moving Forward
With your support I will continue, as your city council member, to listen and create ongoing opportunities for community engagement. I will ensure your voice and views are heard as new developments emerge.