Housing and Livability in the Third Ward
Sustainable New Development • Efficiency Retrofitting • Green Housing Renewal • Senior Housing • Livability Issues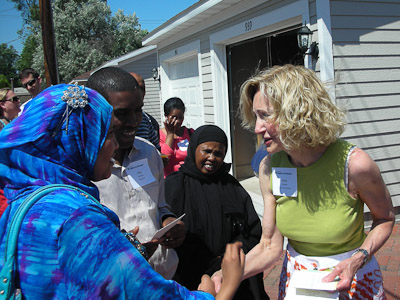 Most wards in the City of Minneapolis have housing that was built within a particular time period reflecting when the area was settled. Not so for the Third Ward. Our "new" Third Ward, includes both the City's oldest neighborhood (Marcy-Holmes) and the City's newest residential area (Downtown East and West).
My strong focus on housing is to promote long-term sustainability in new housing development, revitalization of communities through housing renewal, and retrofitting existing homes for energy efficiency.
Sustainable New Development
There are a number of large housing development projects underway in the Third Ward, including half a billion dollars in housing development. It's important that developers put sustainability and design front and center. Affordability is more than the price tag of a house or a unit; it includes the cost of operations and maintenance – heating and cooling costs, lighting costs, air quality, durability of materials.
Better buildings are possible. I toured Hammarby Sjöstad, a sustainable housing development in Stockholm, Sweden, which was built in what had been a heavily polluted industrial area. That housing development is a model for sustainability. It generates little waste and recycles 90% of its water. I partnered with the University of Minnesota Department of Sustainability and the Metropolitan School of Design to bring the developer here to speak at a metropolitan-wide symposium.
Efficiency Retrofitting • Green Housing Renewal
The City offers a wide range of programs to help residents make their homes more energy efficient. I fully support these efforts. I also support the creation of new models for old housing following the direction of the Hawthorne EcoVillage, a project that combined economic and environmental renewal to an area of the City hit hard by home foreclosure.
Prior to development, the four-square-block area had 53 vacant, condemned or boarded-up properties. It now includes new homes that meet LEED energy efficiency standards, and old homes rehabbed with green materials. This is the kind of holistic development effort we need to see throughout our City.
A Spotlight on the EcoVillage at the 2010 World Habitat Day: We were privileged to host former president Jimmy Carter, his wife Rosalynn Carter and other representatives from Habitat for Humanity as they kicked off the Jimmy & Rosalyn Carter Work Project. The Project is a week of building to bring attention to the need for decent, affordable housing for families. In 2010, it took place here in the Third Ward at the Hawthorne EcoVillage, in partnership with our local Habitat for Humanity Chapter and Project for Pride in Living.
Promoting Home Ownership in Areas Hard-Hit by Foreclosure
Many of the neighborhoods I have represented in North and Northeast Minneapolis are among those hardest hit by the home foreclosure crisis so I organized a community forum on the home foreclosure crisis ultimately resulting in the creation of the Neighborhood Stabilization Program. Working with Congressman Keith Ellison and other public officials, we brought $70 million from state and federal sources for home rehab, housing development and home ownership strategies, which included:
The Minneapolis Advantage Plan and the Minneapolis Homebuyers Program for homeownership that provided financial assistance for down payment, closing and renovation costs and a $10,000 zero-interest forgivable loan to homebuyers in hard-hit neighborhoods.
The Neighborhood Stabilization Program offered funds to purchase and rehab abandoned and foreclosed homes, for demolition of blighted buildings, and for the redevelopment of vacant properties.
Senior Housing & Aging in Place
I believe that we need to do more to address the housing needs of seniors in our community. Most seniors want to stay in their own homes. With the right mix of services and support, they can do so. I worked hard to get approval for a new senior housing project with St. Marion's and Catholic Eldercare Senior Housing. I am currently working with Catholic Eldercare, which is working to develop an aging-in-place program for Northeast Minneapolis and, ultimately, our City.
Livability
Housing doesn't exist in a vacuum. Diversity of retail and design are all elements of community building. The conversation about housing development – especially in areas where it hasn't existed before, like the downtown area – must include a discussion of security, schools and green space. Large-scale housing development began in downtown before that area became part of the Third Ward.
Now residents are advocating for the development of those institutions that form the heart of a community – community schools and neighborhood parks where kids can play. It will be important that the park dedication fee be passed by the state legislature this year as a funding mechanism to ensure the expansion of green space and neighborhood parks. To that end, I will advocate at the legislature to encourage our representatives to pass this legislation.
I strongly support the formation of a new school and park space in the North Loop neighborhood – which will join the "new" Third District in January 2014 – and, with your support, I will work hand-in-hand with residents to achieve these goals.