Working for a Better St. Anthony West Neighborhood
Housing • Public Safety • Seniors • Transit • The Mississippi Riverfront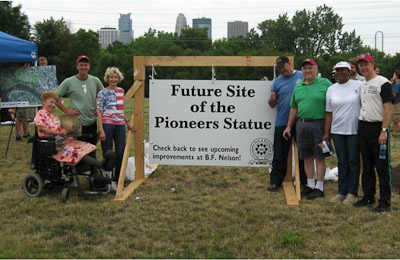 It is my honor to represent the residents and businesses of the St. Anthony West neighborhood. Yours is a vibrant community, home to some large businesses, including the corporate headquarters of Graco. Many positive changes have occurred in your area during my tenure as your City Council member:
I worked to get approval for an area business to install a $70,000 rain garden and as a result of that improvement they reduced stormwater runoff and impeded crime.
I worked with the neighborhood and City Regulatory Services to get a long-time problem property on 2nd Street condemned, after which a new owner renovated it.
I worked to get approval for a new senior housing project with St. Marion's, which was completed in 2009.
St. Anthony West will see even more change in the near future, particularly along the Boom Island, BF Nelson, and Scherer Brothers riverfront parks and along transit corridors. I look forward to having a positive impact on these developments as your City Council member.
Seniors and Housing: St. Anthony West has a lot of senior housing, thanks to Catholic Eldercare and St. Marions. Senior services are often best provided through aging-in-place programs, an expansion of which has been proposed by Catholic Eldercare. I believe the program they are developing for St. Anthony West will become a model for neighborhoods throughout the City.
Safety: Public safety is the number one priority for me and for my constituents. I serve on the City's Public Safety, Civil Right & Health committee.
I initiated and I facilitate monthly CARE Meetings with Minneapolis 2nd and 4th Precinct, U of M police, crime prevention specialists, the fire marshal, Minneapolis Regulatory Services staff and inspectors, Minneapolis Public Housing staff, the City Attorney, Hennepin County probation office, Hennepin County Taxpayer Services staff, and others to discuss, report on and resolve critical public safety matters, economic developments and other issues of importance to our Ward and City. We have enjoyed eight straight years of crime reduction in the Third Ward.
Transit Options: St. Anthony West's Action Plan identified a desire for improved walkability and bikeability. Parking and traffic are also a big concern along University Avenue. To address this, I created a Traffic Work Group. I am also heavily involved in planning for improved public transit. I facilitated a Third Ward Transportation Summit to look at transportation issues and options including light rail, commuter bus and "complete streets" to improve biking and pedestrian safety.
The Mississippi Riverfront: In 2009, the Minneapolis Park Board approved an agreement with Scherer Brothers Lumber to purchase Mississippi riverfront land in the St. Anthony West Neighborhood. This property lies within the area of the "Above the Falls Plan" plan, which calls for creation of more park land and trail development along both sides of the Mississippi River. The plan also includes land in the St. Anthony West neighborhood near the Plymouth Avenue Bridge.
Since the creation of this plan, several trails have been completed and parkland on both sides of the river have been improved and designated for this purpose. I have taken the lead on eco-friendly riverfront improvements both as co-chair of the Minneapolis Riverfront Partnership and as a member of the steering committee of RiverFIRST.
I will work with you to ensure that development along the Mississippi Riverfront contributes to, rather than detracts from, your community.
Communities can resolve problems and create opportunities when diverse groups of people come together to talk. That's why I sponsor the yearly NeighborhoodFEST to give those who live and work in the Third Ward an opportunity to build connections and learn from one another.
Moving Forward
With your support I will continue, as your city council member, to listen and create ongoing opportunities for community engagement. I will ensure your voice and views are heard as new developments emerge.